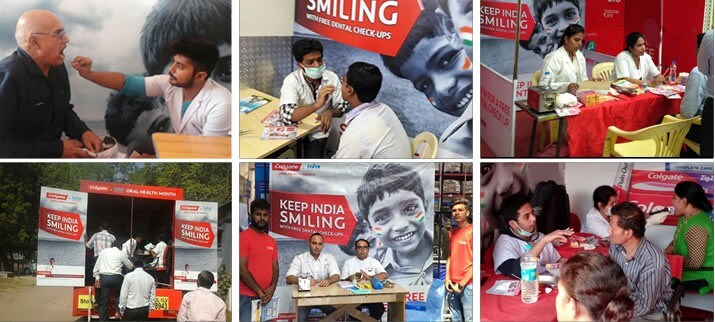 India's first National Oral Health Survey conducted by Dental Council of India and Ministry of Health & Family Welfare in the year 2002-2003, threw light on the falling standards of oral health care in India. Realizing the gap, Colgate India along with Indian Dental Association (IDA), in 2004, rolled out Oral Health Month (OHM), an awareness campaign to establish and promote the importance of good oral hygiene and regular dental check-ups. Spanning two months – November and December- OHM is focused on educating consumers and offers dental check-ups across the country.
OHM was initiated in 2004 as a 6-city programme with 70 participating dentists. The Oral Care awareness drive now covers in-clinic free dental check-ups, school contact programs, free dental check-ups in mobile dental vans, retailers outreach program, Canteen Stores Departments (CSD ) outreach initiative and many more activities. In the past 13 years, Oral Health Month has grown phenomenally, emerging as a leading campaign for promoting oral health awareness in India.
Oral Health Month 2016 brought alive the theme of 'Keep India Smiling' through a wide spectrum of awareness-related initiatives highlighting the importance of oral health. Delivered in partnership with IDA, the campaign in 2016 benefitted more than 6 million people across geographies, contributing towards improving the Oral Health condition in India.